Written By A Kid is a YouTube series made and aired on Felicia Day's YouTube network Geek and Sundry. The series features on-the-spot stories from real kids who's stories are brought to life through popular celebrities and creative directors.
The show began July 18, 2012 with the episode "Scary Smath" and has since, so far, released five episodes, one per week.
"Goth Boy" - Episode 2
Edit
The second episode of this newborn series stars and is directed by Rhett and Link. The story of the episode, written by eight-year-old girl CiCi, focuses on a two-year-old who's name is Max (Link) who's mother has married a goth guy named Christian (Rhett). As decribed by CiCi, Christian wears black nail polish, black skinny jeans, and a black tanktop. His eyes are black too.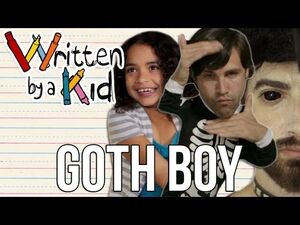 After moving his stuff in, all of which are black, disappointed Max begins to play tricks on him and test him. Specifically one night, where Max sneaks from his crib to the living room floor where he would begin crying and screaming as loud as he can. Quickly as ever, morning comes, and Max turns three. Christian gets him clothes from a store called "Goth for Christmas" and, with his new, more mature mindset, Max learns that goth isn't bad. It's actually more fun than being not goth.
Behind the ScenesEdit
As other Written By A Kid episodes have done, "Goth Boy" has a behind the scenes video where Rhett and Link show behind the camera.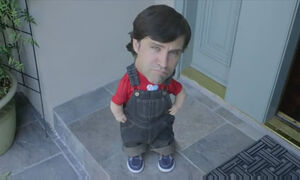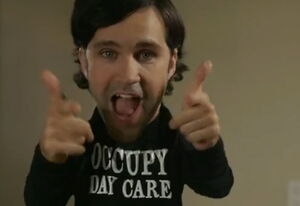 Rhett and Link show in this behind the scenes video the reasons they both chose CiCi's story. They also talk about how they made it essentially a silent movie, save for CiCi's narration and Will and Josh's comments. They elaborated also how they wanted to make it so that they know its really a child telling the story. Julian Smith is also talked about and how him and his company Papertown produced and helped shoot the video.
Challenges in making "Goth Boy" was the black color contacts which Rhett and Link painstakingly donned for the video, rather than digitally put black eyes in the video. Another tough aspect of "Goth Boy" was Link playing a baby. Link, to successfully (and hilariously) portray two-year-old Max, wore a skin-tight fullbody green lycra bodysuit to blank out his body, while he would put a small baby outfit around his neck to make look like an actual small baby. To make hand movements, he would also stick his hands through sleeves to have his real hands appear through the baby's outfit.
Other Appearances
Edit
Rhett and Link also made a cameo appearance alongside Joss Whedon and a skeleton as members of the S.Q.U.A.T. Team in the pilot episode "Scary Smash". In addition to three other members, Rhett and Link meet an untimely fate due to the fire blown from the red one-eyed monster's mouth.
Connections
Edit
Mystery Guitar Man makes a cameo in the fourth episode "Rainbow Town"
Community content is available under
CC-BY-SA
unless otherwise noted.