This page is for the actual Wheel of Mythicality. You may be looking for the animated series, if so, click right here.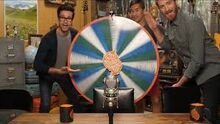 The Wheel of Mythicality is the spinning wheel that is seen in almost every episode of Rhett and Link's talk show Good Mythical Morning. It is used to tell Rhett and Link how to end the show with the ending suggestions written in by the viewers of Good Mythical Morning. It's role is much like Chia Lincoln of Rhett and Link's first talk show Good Morning Chia Lincoln. It can go counterclockwise (Season 1-3) and clockwise (Season 4-present).
As the show progresses, the Wheel makes various changes accordingly. For the show's second season, the Wheel gained three special spots colored red, blue, and black. The red and blue spots had positive endings, while black spots had negative (for Rhett and Link) endings. The third season was nearly the same, however, replacing red spot and one added green spots with spots bearing Rhett and Link's faces, indicating it is their choice as to how they will end the show. For Season 4-6, it is now determined by the Mega Mythical Wheel which it has fewer spots, improved weight, and now spins counterclockwise and clockwise. For Season 7, the wheel has now 24 spots and 3 special #GMMWinFace spots that when landed on, reveal a photo of a fan who wins an unspecified prize. Due to the popularity of photos of #GMMWinFace, the wheel changed on Episode 97 of Season 7, making it the first season that changed the wheel twice. For the new wheel, half of all the spaces (alternating from the original spots) have the chance for #GMMWinFace.
Appearances and Endings
Edit
Community content is available under
CC-BY-SA
unless otherwise noted.