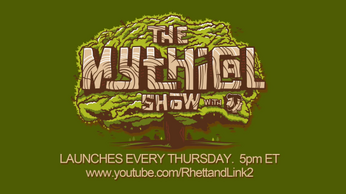 The Mythical Show is a half-hour internet program on rhettandlink2, the second channel of Rhett and Link, having a full twelve episodes.
It is the subject of experimental content that blends their previous works together into one program which Rhett and Link themselves describe as, "It's sort of like a late night show meets a talk show meets Hee Haw meets the internet!"
The show combines the stories and plots the comedy duo has posted in the past into something that of a variety show, much like the Mythical Christmas Special they debuted December of 2012. "The Mythical Show" shows the return of familiar characters and local commercials, a practice that began on their IFC reality show Rhett and Link: Commercial Kings.
Each episode includes various guest stars and usually a music video. It also implements popular key points from Good Mythical Morning, i.e. the use of the Wheel of Mythicality, and uses a similar, albeit redone, set. Most significantly, the show uses a live studio audience comprising of Mythical Beasts who live in the California area.
The show was first announced on Good Mythical Morning in an episode, aptly titled "Big Announcement: Our New Show", in which they held a quasi-shareholders meeting for Mythical Beasts curious about the new project. They announced the ending of the third season of Good Mythical Morning in conjunction with the premiere and that the new project would last twelve episodes on a weekly basis.
Following the end of Good Mythical Morning, the show began to be promoted heavily on both of the duo's channels and a contest was announced with the help of VlogBrother Hank Green for a lucky fan to win a call from Rhett and Link if they successfully and creatively promoted the show to non-Mythical Beasts
On April 25, 2012, the show finally debuted to much fanfare with an episode featuring guest stars Toby Turner and The Fine Bros. from Kids React.
List of Episodes
Edit
Community content is available under
CC-BY-SA
unless otherwise noted.