Jurassic World: Dominion Dominates Fandom Wikis - The Loop
Play Sound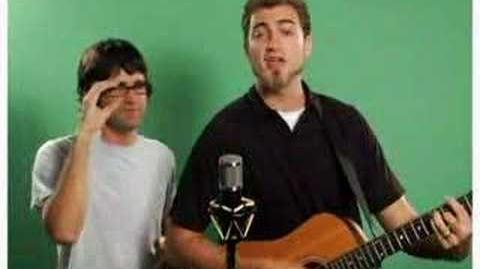 The RhettandLinKast Live was an hour-long weekly live show which ran from November 2007 to November 2009 on Ustream. After Ustream was bought by IBM, the videos ended up getting deleted from the site. A full archive of the show, including the non-live episodes, is currently accessible through the Mythical Society with at least first-degree membership.
Link would start each show by saying "Ladies and gentlemen, coming to you live from an undisclosed location in our basement studio in Lillington, North Carolina, this is the RhettandLinKast."
The show consisted of Rhett and Link chatting at a card table in front of a green wall about various topics and featured songs, guests, video premieres, call-ins and several different segments such as Link's Golden Advice for Single Guys and The Future According to Rhett.
Episodes
[
]
This list is an incomplete list based on the episodes available on the Mythical Society.
#
Date
Title
Length
Summary/Notes
1
November 7, 2007
RhettAndLink First Test
4:48
2
November 30, 2007
Lunch w Lincoln + Test Setup
12:01 & 15:31
3
December 7, 2007
Cornhole Song, Senators, Mashed Potatoes
1:02:10 & 11:16
4
December 21 2007
Rhett And Link- Show03
1:08:10
5
December 28, 2007
Holiday Limbo Show with Impromptu Singing
1:01:30
Out of studio.
6
January 10, 2008
WalMart & Wild Animals in the Basement
1:05:41
7
January 11, 2008
Wales Song, Movie Warnings, and Gregg
1:04:46
8
January 17, 2008
American Idol, Rapping, More
1:07:57
9
January 18, 2008
Use Planet of the Apes to Meet Women
28:26
10
January 24, 2008
Alexis Cohen interview, +more!
1:04:32
11
January 25, 2008
Office Hour- Semi-Pro Movie review
29:04
12
January 31, 2008
Sickness, Confessions, President Possum
1:09:01
13
February 7, 2008
Valentines Prep, Cooking, iPod Song
1:10:51
14
February 8, 2008
Office Hour- Gregg allergies and more
38:55
15
February 14, 2008
Goth vs Emo, Dead iPod Song
1:03:45
16
February 21, 2008
Fear of Frogs Song, iPod Responses, Etc
1:04:58
Out of studio, Link's House.
17
February 28, 2008
Oscars+Idol Recap+LiveSongs
1:11:17
18
March 6, 2008
Broken Bone Call In Show!
1:08:07
19
March 7, 2008
Behind the Scenes: Blonde Top Secret
1:08:51 & 41:00
20
March 13, 2008
The Fast Food Show
1:12:22
21
March 14, 2008
Wheeler Fruit of the Earth #1
14:44
22
March 20, 2008
Rhett and Link
1:07:08
23
March 27, 2008
TwitterKast
1:02:04
24
March 28, 2008
Office Hour
16:58 & 4:52
25
4/3/2008
Zoo babies and Cell Phones
36:23 & 22:03
26
April 10, 2008
Exercise Show with Sculptures!
1:05:16
27
April 17, 2008
Hannah Montana and Nails
18:17
Incomplete recording.
28
April 24, 2008
NYC Prelude
0:46 & 0:46
29
May 1, 2008
Lots, including David Choi-YouTube Song
1:03:13
30
May 8, 2008
Untitled Video rhettandlink 1 & Worlds Largest Artichoke Show!
48:22 & 4:30
On the road for the ASGART
31
May 15, 2008
Summer Jobs Call In Show
1:00:59
32
May 22, 2008
Untitled Video rhettandlink 1 & Test TEch difficulties
4:59 & 7:41
33
May 23, 2008
Jingles Audition – Practicing! & Jingles Audition preparation-2of2
25:52 & 30:45
34
May 29, 2008
Branson Hotel Room Show
1:01:32
Out of studio.
35
June 5, 2008
Guest Host Interviews, Kittens and Textual Bombs
1:01:14
Guest Host
36
June 12, 2008
untitled
1:06:09
37
June 20, 2008
Office Hour:NYC vendor song- jam session
3:12 & 1:58
Guest Host
38
July 3, 2008
The RhettandLinKast Live – 7. 3. 2008. 21:53:52 GMT-0400
31:57 & 37:29
39
July 10, 2008
Philly Hotel Room show
1:01:08
Out of studio.
40
July 17, 2008
Terry Border and eHermit in the House
1:06:00
41
July 24, 2008
Craigs List Crank Call Quiz Show
1:05:31
42
July 31, 2008
Heimlich Maneuver Show
0:48
Corrupted recording.
43
August 1, 2008
Happy Birthday LilFigs29
57:12
Corrupted recording.
44
August 7, 2008
Movie Trailer Voice Over + Olympics Song
1:06:49
45
August 14, 2008
Food Cart Song and Gazebo on Craigslist
1:04:06
46
August 21, 2008
_____andLinKast
1:02:21
Rhett is with family after the birth of his second child,

Shepherd

.
47
August 28, 2008
Silver Medalist with Rusty & Larnold
50:26
Corrupted recording.
48
September 4, 2008
Back At School – Part 1 & CBS Cheese Winners – Part 2
13:49 & 48:00
49
September 18, 2008
SuperNote Team Scrimmage + The Economy
1:06:17
50
October 9, 2008
The Pomegranate Show
1:07:36
51
October 16, 2008
Pig Pickin' Extravaganza
1:08:11
52
October 23, 2008
Shatnering Show
1:02:37
53
October 30, 2008
HalloweenKast LIVE
1:14:40
54
November 6, 2008
Fashion Statement Curl Show
1:10:54
55
November 13, 2008
Call-In Show
1:10:32
56
?
Mystery Surprise Who-sie Whatsit Show
57:26
Guest Hosts
57
December 4, 2008
Post Thanksgiving Show Pt. 1 & Real Tree Fake Tree Pt. 2
28:31 & 35:05
58
December 11, 2008
The Bad Breath Kast
1:09:15
59
January 8, 2009
Phobia Show
34:09 & 12:20 & 17:34
60
January 22, 2009
Guac Extras and Knee Injury
1:17:27
61
January 29, 2009
Flight 1549 Survivor Interview
1:10:37
62
February 5, 2009
Dreams and Nausea Show
1:03:22
63
February 12, 2009
PreValentines Anchor Phrase Show
1:01:49
64
February 19, 2009
Silver & Behind The Music: Rhett&Link
1:38 & 4:13 & 1:04 & 7:45 & 1:13:13
65
February 26, 2009
ShamWow Test Show
1:12:31
66
March 5, 2009
Cereal Show & Link Dance – iPhone Broadcast test
1:07:00 & 0:47
67
?
YouTube Request Show
1:19:05
Guest Host
68
March 15, 2009
Phone Update: LA
6:04
69
March 19, 2009
Craigs List Crank Calls
1:09:24
70
March 26, 2009
We Practice Our Song Concert Show
1:10:15
71
April 2, 2009
[Rhett&Link Recollections & Reminiscing
1:05:38
72
April 9, 2009
Maine BBQ Kid Exploitation Show
1:02:00
73
April 16, 2009
TV Theme Song Show
1:03:36
74
April 23, 2009
Rudy and Red House Show
9:31 & 50:02
75
May 7, 2009
ohio concert preshow 8 – 9pm & ohio concert 9pm – 10pm
47:42 & 1:02:04
76
May 14, 2009
Debates and Questions Kast
1:17:45
77
May 21, 2009
Rhett & Link IDOL Audition Show
51:44
78
May 28 2009
Celebrate the 80s
59:44
79
June 4, 2009
Awkward Moments Show
1:03:21
80
July 7, 2009
Kommunity Mod Meeting
55:46
81
September 3, 2009
First Kast Back
47:20
82
July 31, 2009
Heimlich Maneuver Show
2:14:18
83
September 17, 2009
09.17.09show
1:27:00
84
October 1, 2009
10.01.09show
1:27:17
85
?
?
1:06:21 & 2:40 &1:49 & 24:17
86
November 20, 2009
11.20.09bshow
1:04:55
87
February 18, 2010
2.18.10
50:56
88
July 23, 2010
7.23.10
42:08
89
?
Secret GMM Puzzle Broadcast
1:30:54