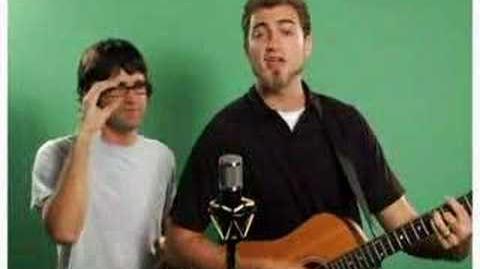 The RhettandLinKast Live was an hour-long weekly live show which ran from December 2007 to November 2009 on Ustream. Unfortunately Ustream was not a reliable platform and the videos stopped working over the years, and as of December 2018 their channel has been deleted without warning because IBM is quietly closing the site down.
The show consisted of Rhett and Link chatting at a table about various topics and featured songs, guests, video premieres, call-ins and several different segments such as Link's Golden Advice for Single Guys and The Future According to Rhett.
Show Recordings
Edit
This list is only for posterity because Ustream is closing down and the videos have been deleted. A select few can be found mirrored on YouTube. All titles reflect the name given to each respective recording on ustream.tv and may be non-specific or, in some instances, shortened here. Some shows are split up into two or more separate recordings. This list does not include all recordings on the Rhett and Link Ustream account and excludes office hours, non-regular and guest hosted shows.
| Date | Titles | Length | Summary/Notes |
| --- | --- | --- | --- |
| 12/7/2007 | Cornhole Song, Senators, Mashed Potatoes | 1:02:10 | |
| 12/21/2007 | Rhett And Link- Show03 | 1:09:13 | |
| 12/28/2007 | Holiday Limbo Show with Impromtu Singing | 1:01:30 | Out of studio. |
| 1/11/2008 | WalMart & Wild Animals in the Basement | 1:05:41 | |
| 1/18/2008 | American Idol, Rapping, More | 1:07:58 | |
| 1/24/2008 | Alexis Cohen interview, +more! | 1:04:33 | |
| 1/31/2008 | Sickness, Confessions, President Possum | 1:09:01 | |
| 2/7/2008 | Valentines Prep, Cooking, iPod Song | 1:10:51 | |
| 2/14/2008 | Goth vs Emo, Dead iPod Song | 1:03:45 | |
| 2/21/2008 | Fear of Frogs Song, iPod Responses, Etc. | 1:04:58 | Out of studio, Link's House. |
| 2/28/2008 | Oscars+Idol Recap+LiveSongs | 1:11:17 | |
| 3/6/2008 | Broken Bone Call In Show! | 1:08:07 | |
| 3/13/2008 | The Fast Food Show | 1:12:22 | |
| 3/20/2008 | Rhett and Link | 1:07:08 | |
| 3/27/2008 | TwitterKast | 1:02:04 | |
| 4/3/2008 | PT.1-Zoo babies and Cell Phones | 36:23 | |
| 4/3/2008 | PT.2-Zoo Babies and Cell phones | 22:04 | |
| 4/10/2008 | Exercise Show with Sculptures! | 1:05:16 | |
| 4/17/2008 | Hannah Montana and Nalts | 18:18 | Incomplete recording. |
| 5/1/2008 | Lots, including David Choi-YouTube Song | 1:03:14 | |
| 5/8/2008 | Untitled Video rhettandlink 1 | 48:24 | On the road for the ASGART |
| 5/8/2008 | Worlds Largest Artichoke Show! | 4:31 | Textual bombardment |
| 5/15/2008 | Summer Jobs Call In Show | 1:01:00 | |
| 5/29/2008 | Branson Hotel Room Show | 1:01:32 | Out of studio. |
| 6/12/2008 | untitled | 1:04:07 | |
| 7/10/2008 | Philly Hotel Room show | 1:02:25 | Out of studio. |
| 7/17/2008 | Terry Border and eHermit in the House | 1:06:05 | |
| 7/24/2008 | Craigs List Crank Call Quiz Show | 1:05:33 | |
| 7/31/2008 | Heimlich Maneuver Show | | Corrupted recording. |
| 8/7/2008 | Movie Trailer Voice Over + Olympics Song | 1:06:53 | |
| 8/14/2008 | Food Cart Song and Gazebo on Craigslist | 1:04:08 | |
| 8/21/2008 | _____andLinKast | 1:02:26 | Rhett is with family after the birth of his second child, Shepherd. |
| 8/28/2008 | Silver Medalist with Rusty & Larnold | | Corrupted recording. |
| 9/4/2008 | Pt.1 Back At School; Show | 13:52 | |
| 9/4/2008 | Pt2-CBE Cheese Winners | 48:01 | |
| 9/11/2008 | Concert (Practice!) + Remembering 9/11 | 1:35:37 | |
| 9/18/2008 | SuperNote Team Scrimmage + The Economy | 1:06:18 | |
| 10/9/2008 | The Pomegranate Show | 1:07:41 | |
| 10/16/2008 | Pig Pickin' Extravaganza | 1:08:11 | |
| 10/23/2008 | Shatnering Show | 1:02:42 | |
| 10/30/2008 | HalloweenKast LIVE | 1:14:43 | |
| 11/6/2008 | Fashion Statement Curl Show | 1:10:55 | |
| 11/13/2008 | Call-In Show | 1:10:34 | |
| 12/4/2008 | Post Thanksgiving Show Pt. 1 | 28:31 | |
| 12/4/2008 | Real Tree Fake Tree Pt. 2 | 35:05 | |
| 12/11/2008 | The Bad Breath Kast | 1:09:17 | |
| 1/8/2009 | Phobia Show Pt. 1 | 34:12 | |
| 1/8/2009 | Phobia pt. 2 | 12:21 | |
| 1/8/2009 | Phobia Pt. 3 | 17:34 | |
| 1/15/2009 | Do Ear Candles Work???? | 1:06:00 | Will not play. |
| 1/22/2009 | Guac Extras and Knee Injury | 1:17:30 | |
| 1/29/2009 | Flight 1549 Survivor Interview | 1:10:37 | |
| 2/5/2009 | Dreams and Nausea Show | 1:03:22 | |
| 2/12/2009 | PreValentines Anchor Phrase | 1:01:49 | |
| 2/19/2009 | Behind The Music: Rhett&Link | 1:13:15 | |
| 2/26/2009 | ShamWow Test Show | 1:12:31 | |
| 3/5/2009 | Cereal Show | 1:07:00 | |
| 3/19/2009 | Craigs List Crank Calls | 1:09:24 | |
| 3/26/2009 | We Practice Our Song Concert Show | 1:10:15 | |
| 4/2/2009 | Rhett&Link Recollections & Reminiscing | 1:05:38 | |
| 4/9/2009 | Maine BBQ Kid Exloitation Show | 1:02:01 | |
| 4/16/2009 | TV Theme Song Show | 1:03:36 | |
| 4/23/2009 | Pt 1 Rudy and Red House Show | 9:32 | |
| 4/23/2009 | Pt 2 Red House and Rudy Show | 50:02 | |
| 5/14/2009 | Debates and Questions Kast | 1:02:06 | |
| 5/21/2009 | Rhett & Link IDOL Audition Show | 1:17:49 | |
| 5/28/2009 | Celebrate the 80s | 59:45 | |
| 6/4/2009 | Awkward Moments Show | 1:03:24 | |
| 6/11/2009 | The RhettandLinKast Live 06/11/09 | 1:06:32 | |
| 9/3/2009 | First Kast Back - Part 1 | 47:21 | |
| 9/3/2009 | First Kast Back - Part 2 | 28:56 | |
| 9/10/2009 | Mythical Beast Broken Arm Mouse Poll Show | 1:01:50 | |
| 9/17/2009 | Patrick Swayze Tribute Show | 58:36 | |
| 9/24/2009 | Embarrassing Oedipus Kast | 1:03:59 | |
| 10/1/2009 | Us on TV and off | 1:08:12 | |
| 10/8/2009 | RhettKast | 1:03:16 | Link is on vacation. |
| 10/22/2009 | LinKast: Naming Link's Next Son | 1:11:29 | Rhett is on vacation. |
| 10/29/2009 | Trick or Beard Kast (Part 1) | 33:31 | |
| 11/5/2009 | Bent Object KBE Kast | 1:06:23 | |
| 11/19/2009 | Bent Objects Kast Pt 1 | 59:53 | |