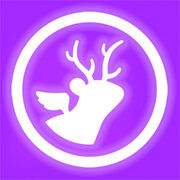 Mythical (originally This Is Mythical, EXTRAS - RhettandLink and rhettandlink4) is a YouTube channel run by the staff of Mythical Entertainment. It is the home of experiments, challenges, and sketches that are hosted by the Mythical Crew.
When the channel was originally created, it was the home of behind the scenes of Rhett and Link music videos and clips of Good Mythical Morning. It also was the original home of Good Mythical Crew, as well as a place where videos from the Rhett and Link Facebook were posted.
Between the 15th and 19th March 2017 a series of cryptic videos were released on the channel. The channel also was renamed to "_" and the channel image and banner were black. This was the announcement of the channel becoming This Is Mythical. The official trailer was released on 20th March 2017.
The channel reached inactivity after 21st January 2018 after Ear Biscuits, the last running series on the channel, moved to the Good Mythical Morning channel. Also, around this time, the channel name was changed from "This Is Mythical" to simply "Mythical", and the channel image and banner were updated.
The channel is home to multiple different video series:
Ear Biscuits
Edit
Ear Biscuits is the podcast hosted by Rhett and Link. From Season 3, video of Ear Biscuits is produced and posted on the channel. Clips from the podcast are posted as well a the entire thing.
Ten Feet Tall
Edit
Ten Feet Tall is a show hosted by Mike and Alex. Episodes begin with a crazy idea. The idea is then attempted and the remains of the idea is burnt in a fire pit.
Mythicalicious
Edit
This series includes recipes to make different food items from "Will It" episodes of Good Mythical Morning, cooking food items with power tools, making food challenges, taste tests, and more.
This Is Mythical
Edit
This series involves many different types of videos including product tests, behind-the-scenes, competitions, experiments, games, and more.
Sweet Treats
Edit
This is a series of videos, typically very weird, including recuts of Good Mythical Morning, music videos, and morphsuit videos.