Caption Fail
 is one of the many series of Rhett and Link videos. This one, being particularly popular with Mythical Beasts, involves Rhett and Link writing a script, filming it, getting YouTube's faulty captions to make a completely new script, and film again using that script.
The series debuted in January 2011 and has been running since, but in June 2013 the format of the series dramatically altered. Rhett and Link now sang songs after YouTube had re-lyricized them, putting the lyrics on screen. 
The Taylor Swift and One Direction caption fail videos have been featured in season one of The Mythical Show: the 6th and 10th episodes, respectively.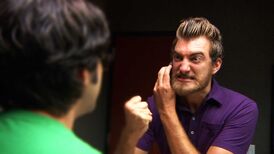 Lady Gaga Putt-Putt Rally (1-31-11)
Jamaican Vacation Hoax (10-3-11)
Bike Police (11-14-11)
Christmas Carol (12-8-11)
Mr. Cuddles (w/ Toby Turner) (5-10-12)
Taylor Swift (6-3-13)
One Direction (7-2-13)